5 Year Anniversary

On the fifth anniversary of Morgan Harrington's abduction and murder, we want you to see Morgan's legacy. There are more women, more girls who have been abducted and murdered in our community. Do you know these women's names, all of them? If not, look again. It is our duty, each of us, to honor all of these women by helping to save the next girl.
Three years after graduating from Virginia Tech, Morgan would now be in her second year of teaching. How many lives would she have impacted? How many children would she have loved? How many hugs and kisses have been stolen from Gil and Dan? How do we measure our immeasurable loss?
You left behind beautiful paintings, Morgan. They take our breath. You inspire young people to take care of each other. We owe you our change, our awareness. We owe you justice, and thank God it is nearly here. We are awake. Grateful. And determined. We are relentless against suffering. We are Help Save the Next Girl.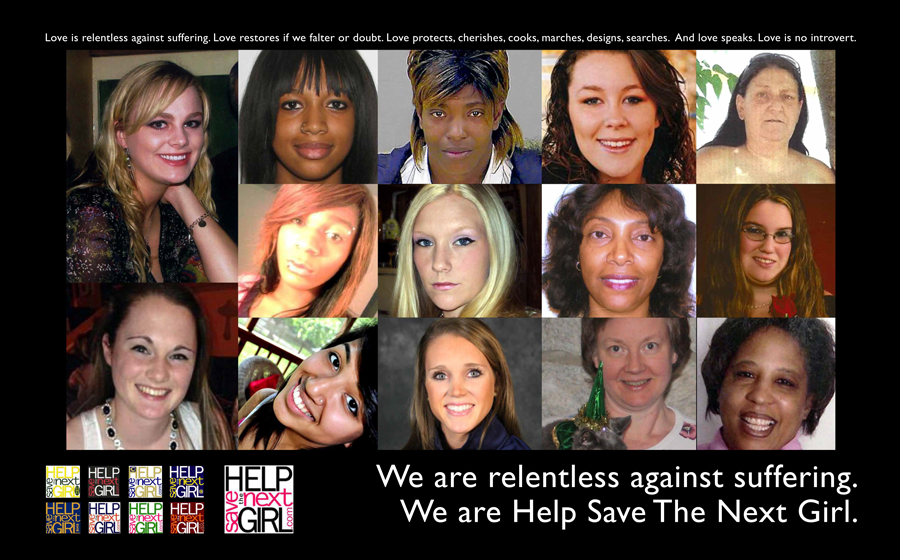 Cassandra Morton
23 year old Cassandra Morton was a mother, a sister, and a daughter from Lynchburg, VA. In October 2009 she was reported missing, and her remains were located 48 days later. Cassandra Morton's body was found in a wooded area off a hiking trail. Investigators treated the case as a homicide, but did not release many details. Her family is still seeking answers about their daughter's death. Anyone with any information about Cassandra Morton's death should contact law enforcement.
Cara Holley
18 year old Cara Marie Holley was a recent high school graduate with plans to attend Virginia Western Community College in August 2010. In the summer of 2010, however, Cara was brutally murdered. Her family has responded by adding beauty back into the world in her honor. They raised funds to have a butterfly bench installed in Cara's name, and keep a garden full of images and memories of Cara. Cara's mother, Lisa Cowling, is supporting both HSTNG and CUE Center for Missing Persons to continue Cara's legacy.
Bonnie Santiago
56 year old Bonnie Santiago is a Mother, Sister, Daughter, Grandmother, and Great-Grandmother. She went missing in July of 2014 from a Carter Mountain home in a rural area in Albermarle County.
Her family has said it would be very unlike Bonnie to leave without telling someone.
Bonnie comes from a large family: she has seven children and 14 grandchildren.
Bonnie's family is seeking answers in her disappearance. If anyone has any information about the disappearance of Bonnie Santiago, please contact law enforcement.
Dashad/Sage Smith
Dashad/Sage Smith, a vibrant young teen from Charlottesville, VA, went missing in 2012. Dashad/Sage was a transgender teen. The evening they went missing, they were reportedly going on a date. According to Dashad/Sage's family, they were starting to find themselves through gender expression, and through the process of coming out. Dashad/Sage's family is still reeling with loss, and lack of answers. If you have any information on the disappearance of Dashad/Sage Smith, please contact law enforcement.
Heather Hodges
In 2012, 22 year old Heather Hodges went missing. She vanished leaving everything, including her purse, keys, and daughter at home. In 2013, it was reported that police have a person of interest but are not releasing the information to the public to prevent jeopardizing the case. If anyone has any information about the disappearance of Heather Hodges, please contact law enforcement.
Hattie Brown
48 year old Hattie Brown was last seen in 2009 at a Sheetz gas station. Eight weeks after her disappearance, Hattie's car was found burned on an abandoned farm in Halifax County, where Hattie was from. Hattie was a retired veteran with the rank of sergeant. Hattie's family is still looking for answers about her disappearance. If you have any information about Hattie Brown or her disappearance, please contact law enforcement.
Samantha Clarke
19 year old Samantha Ann Clarke went missing in 2010 shortly after graduating from Orange County High School. She was at home with her brother, announced she would be going out, and never returned home. Samantha's family is still seeking answers in her disappearance. If you have any information about Samantha Clarke, please contact law enforcement.
Samanata Shrestha
21 year old Samanata "Sam" Shrestha was a Virginia Tech student who studied Biology with plans to attend Med School and become a doctor. Sam went missing February 2014, and a few days after she was reported missing, police located her body. She had been murdered.
Yeardley Love
23 year old Yeardley Reynolds Love was a strong, talented UVA student athlete. In 2010, she was murdered by her former boyfriend just two weeks from her college graduation. Yeardley's family began the One Love Foundation to honor her legacy. The foundation works to end relationship violence through education and technology.

Janet Renee Field
Janet Renee Field went missing in the summer of 2014. Janet appeared to have not packed any bags or any of her belongings, but it is believed that she left of her own accord. Her car was parked at a park-and-ride lot, which was unusual according to her husband. Janet's family is still looking for answers about her disappearance. If you have any information about Janet Renee Field or her disappearance, please contact law enforcement.
Pherbia Tinsley
In July, 2012, Pherbia Tinsley was found in Charlottesville slumped against her steering wheel, murdered by a gunshot wound to the neck. She was 51 years old. Barbara Paige, Tinsley's mother, said that her incredibly gentle daughter "had no enemies". Pherbia served in the military until a vehicle accident left her with a traumatic head injury, but the determined Pherbia beat her limited prognosis and went on to live independently and be a loving mother to two children. We are still seeking information about Pherbia's case.